The Covid-19 pandemic is hitting hard on various industries all over the world, in addition to upsetting our living, our social relations, our loved ones. Tourism was certainly one of the most affected industries by social and economic consequences of pandemic. Quarantine, social distancing, fears of contagion, new behaviors, will contribute to extend the emergency effects on the hospitality industry. Revenue losses and layoffs are having a high impact, especially on small businesses and related activities. The whole sector is working tirelessly to stay afloat, locally supported by government aid. The post-Covid-19 crisis is certainly the most devastating one that has affected tourism since the Second World War to date.
Resilience of Tourism industry
However, it must be considered that hospitality is always started again. 9/11, 2003 SARS, 2008 economic crisis. It never stopped even after the terrorist attacks in Madrid, London, or after the most recent episodes of Nice or Berlin.
The desire to travel, to experience, to escape from everyday life persists, as it is intrinsic to the human being. Although it is still difficult to accurately imagine the post-Covid-19 world, what is certain is that, having been quarantined in their homes for months, having also had to cancel stays and reservations, many people will be putting a trip on the top of the to do list.
This announces a likely explosive restart which, however, will depend on various topics, such as the pandemic trend, the worldwide contagion decrease timing, the availability of a cure or a vaccine, as well as post-crisis people liquidity.
China is showing a slow constant recovery in travel and stays, which has restored the average occupancy rate to over 50% in a few weeks. Obviously, Europe – and even more the United States – are delayed by several weeks following natural distribution of the pandemic.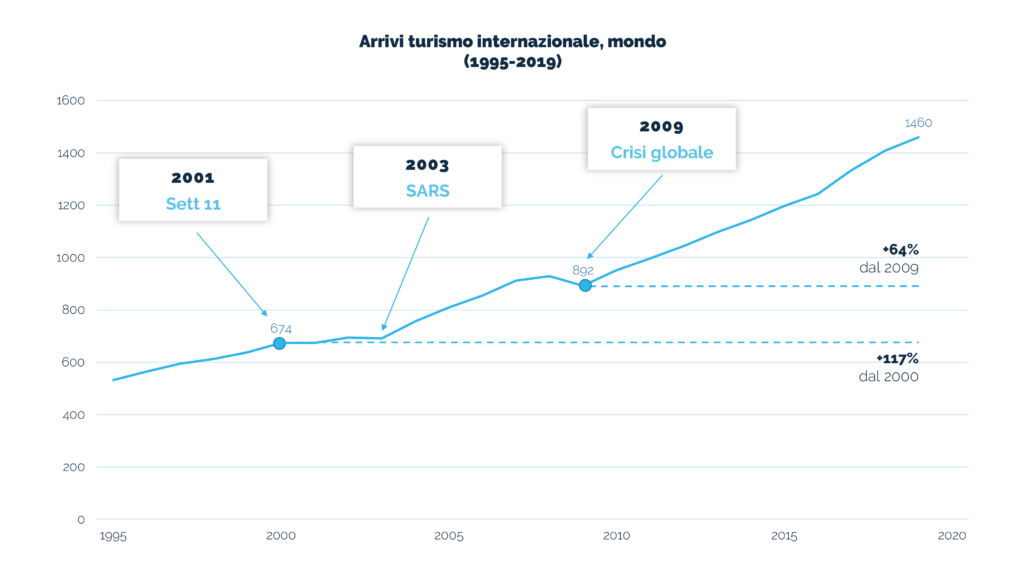 At this moment, therefore, after managing communication with customers and preparing an appropriate maintenance plan to overcome the crisis, it is very important to successfully prepare to welcome the post Covid-19 guest, with his new behaviors, his new needs, the consequences of a forced modified interaction.
And so, digital marketing, disintermediation, modernization, provision of services, technological fittings, will require increasing attention in the coming months, occupying a large part of the space of the hoteliers' working days.
The answers of the hoteliers
We implemented a survey on more than 550 hoteliers, hotel managers, front office managers, with the aim of highlighting what needs they expect to face the virus and what solutions can be put in place to cope with changes in behavior and new needs of post Covid-19 guests, with a view to sharing together and being ready to welcome new customers. The management of communication with guests will change, especially in the period of coexistence with the virus. We asked respondents if they thought about tackling the problem, and how. Over 97% said that managing communication and minimizing physical contact will be an important problem to deal with and 78% said they will use digital tools to facilitate communication by limiting contacts.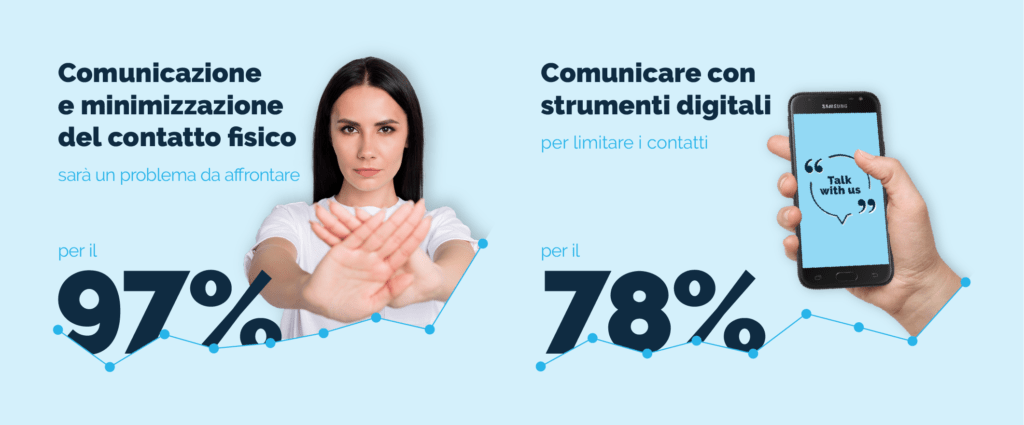 The interaction with the objects in the structure will change due to the fear of infection by the guests. The questionnaire gave us the possibility to get a better understanding of how hoteliers think to manage the organisation of rooms, supplies and common areas, for example, eliminating  the use of paper materials (menus, offers, rules, welcome letters, etc.) Over 64% said they needed to rethink spaces, both in the bedroom and in the common rooms, on the one hand, to limit installations and furnishings and, on the other, to facilitate sanitation and cleaning operations . Over 40% said that they will replace all paper material with digital directories that will be offered exclusively via a WiFi access page or via digital devices in the room and in the common areas.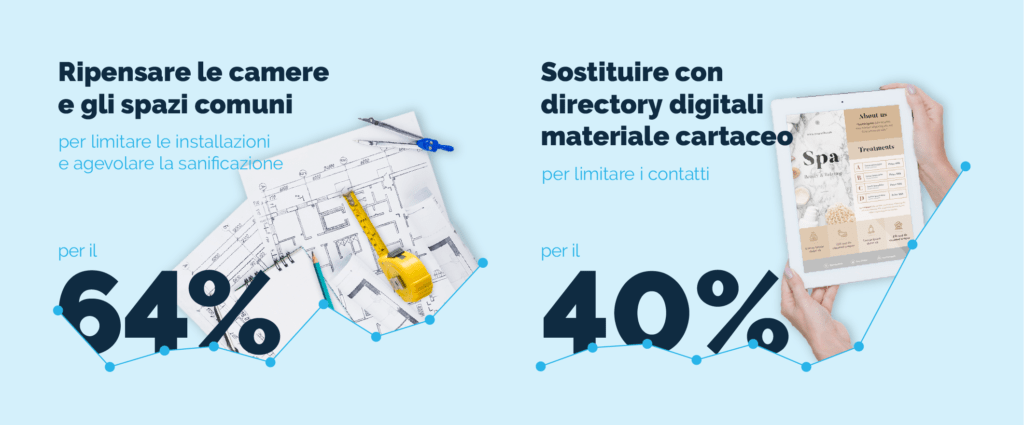 The fact that a greater number of guests will prefer to use room service rather than going to the common areas to limit interactions with others and the possibility of being faced with the need to manage an increase in bookings and a reorganisation of breakfast are expected. Over 50% of hoteliers said they wanted to introduce digital booking systems for room service and breakfast in the room, to facilitate the booking process for the guests and minimise access to the breakfast room, bar or restaurant. In other cases (15%), they stated they want to eliminate the breakfast service or reorganise the breakfast room on a time slot basis (22%).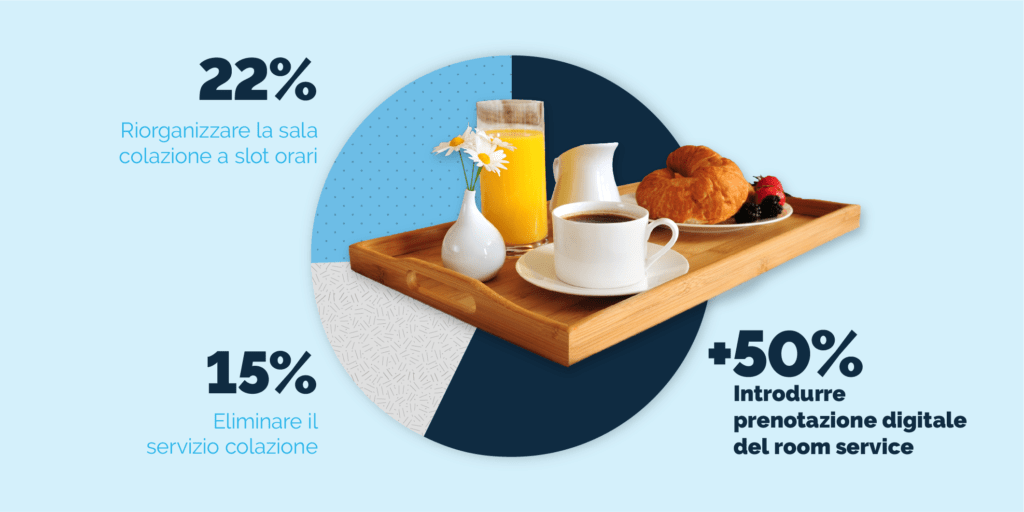 We then asked which technology services would be most useful to address the new needs of the post Covid-19 guest. Only 7% of respondents will not adopt any digital solution to assist the processes and services provided in their facility. Over 50% said they wanted to include or review the automatic check-in process, with document upload and guest recognition through a photographic or semi-automatic match. 35% said they wanted to introduce door opening systems with innovative processes via apps and smartphones. 22% are thinking of using delivery systems (food, utilities, shopping) and over 40% want to take advantage of digital solutions (apps and in-room devices) to convey personalised information on their hotel and its services.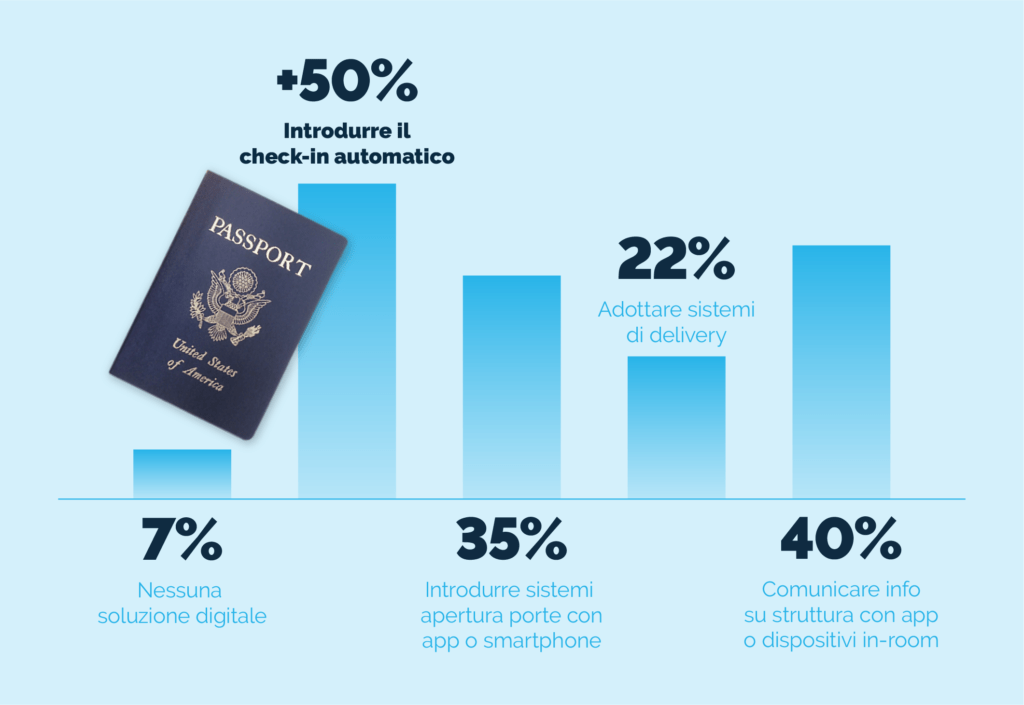 At the end of the questionnaire, the interviewees were given the opportunity to freely express their point of view and the lines of action they are working on to be ready for the reopening phase. From this many curious and useful ideas emerged including digital booking with an interactive map of the breakfast room tables, home automation controls to be activated via apps or in-room devices, video check-in and video chat with the concierge. All aimed at limiting contacts and at streamlining processes and facilitating the use of ancillary services within the hotel.
"Guest management during the stay will be a fundamental aspect for a correct coexistence with post-pandemic fears. Digital tools will certainly facilitate communication between the guest and the front and back office staff and limit contact and interaction with the staff and access to the reception desk. I believe that after a very difficult restart, slowly everything will return to how it was before, whether it be due to the vaccine or because people always tend to do what's most comfortable. The psychological and behavioural effects of the pandemic will wane over time." Fabrizio Roscioli of the Roscioli Hotels group said.
"We know that everyone's way of travelling will change. We do not know for how long, but there will certainly be special attention given to reducing contact and interactions of any kind, even by our in-house staff. We have always given great importance to the welcome, the check-in phase and constant human contact with our guests, to pampering them and making them always feel at home, thanks to our dedicated Lifestyle team. For the foreseeable future, we do not intend to take a step back in this direction, but to increase the support we give to our guests thanks to technology. It won't be easy, but we are working with our technology partners to guarantee automatic check-in and check-out to reduce time spent at the check-in desk, chat and video chat with the staff for smart and fast communication, electronic locks with opening via your smartphone , replacing paper materials with digital ones and much more," said Gianluca Vallerotonda, of Portrait Roma – Lungarno Collection.
Our actions to face the future challenges
It is for this reason that Manet is working on the optimisation of its solution and the implementation of new features that allow post Covid-19 guests to continue to have the best possible experience of the services and the quality of the accommodation in which they are staying, taking into account the new interaction needs.
There will be features aimed at supporting the services that we believe will be most important in the next 12-18 months, but also, and above all, at seizing the opportunities that will characterise the world of travel and tourism, the personality and behaviour of guests, in order to help create a smooth restart, as quickly as possible.
Find out all the news on the Manet solution here.
If you have other ideas, doubts, methods and processes on which we could take action, do not hesitate to contact us. Send an email to info@manetmobile.com or book a call to get more detailed information on manet.youcanbook.me.
We would be pleased to work alongside you, to start over together and to face the challenges of the future.