The connectivity of the future is here!
Enhance your customers' travel experience with connectivity, content and lots of services.
Manet allows you to offer connectivity to travelers of all the world
If you are a tour or travel operator, add value to your offer with the digital assistant that reinvents your customers' experience!
Offer connectivity
to travelers
Improve
customer satisfaction
Expand your offer
with an innovative service
A solution for every business
Markets we target have unique characteristics that we know very well.
Find out how Manet meets your business' needs and revolutionizes your customers' experience!
Manet is a real game-changer!
…but don't take only our word for it!
We have adopted Manet in all our hotels and after these first months of use we feel positively impressed by the added value that the solution brings to services offered to our clients. The reviews that can be read on Tripadvisor, Booking.com and on our social channels, where users express their satisfaction for this innovative and useful service, testify this value.
With this agreement with Manet we wanted to go further by opening a new communication channel with our guests: a chat in real time. Guests can text us through their devices from anywhere, at any time of the day or night, and receive an immediate response from the hotel staff. Thanks to this technology we create a very complete user experience: guests feel welcomed, accompanied and cared for during their stay and this was exactly our desire.
Manet is highly appreciated by the guests of our accommodation facilities. This appreciation is evidenced by many reviews that appeared on our most important online sales channels, mentioning among other things the Manet smartphone, and in many cases expressing the will to choose again the hotels of our group just because of the presence of this service.
Just to let you know, the hotel provides personal phones to all the guest with portable 5g connection, international free calls, internal chat with the lifestyle team and a lot of usefull app downloaded... simply outstanding!
We have added Manet in our guest rooms 1 and half years ago and we could not be happier. The quality of the product along with the efficiency of their customer care is hard to beat. This allows our guests to thoroughly enjoy the service without any hassle or worry. Great job Manet!
Manet is as unexpected as appreciated! Thanks to Manet, a hotel with good service becomes a hotel with excellent service! I especially appreciated that it is an up-to-date digital concierge, which allows immediate communication with guests.
Our collaboration with Manet started in 2019, and we immediately enjoyed the service! Manet helped us in improving communication with our clients and during 2020 it has been an essential help, for booking both the access to the breakfast room and the menu. Another super feature is that Manet allows us to easily update the menu from the dashboard, so guests have the offer at their disposal immediately, without intermediate steps and avoiding, for us, the inconvenience of repeating the offer every time. Last, but not least, finding a smartphone at their arrival is much appreciated by our guests: many customers have judged it a top service.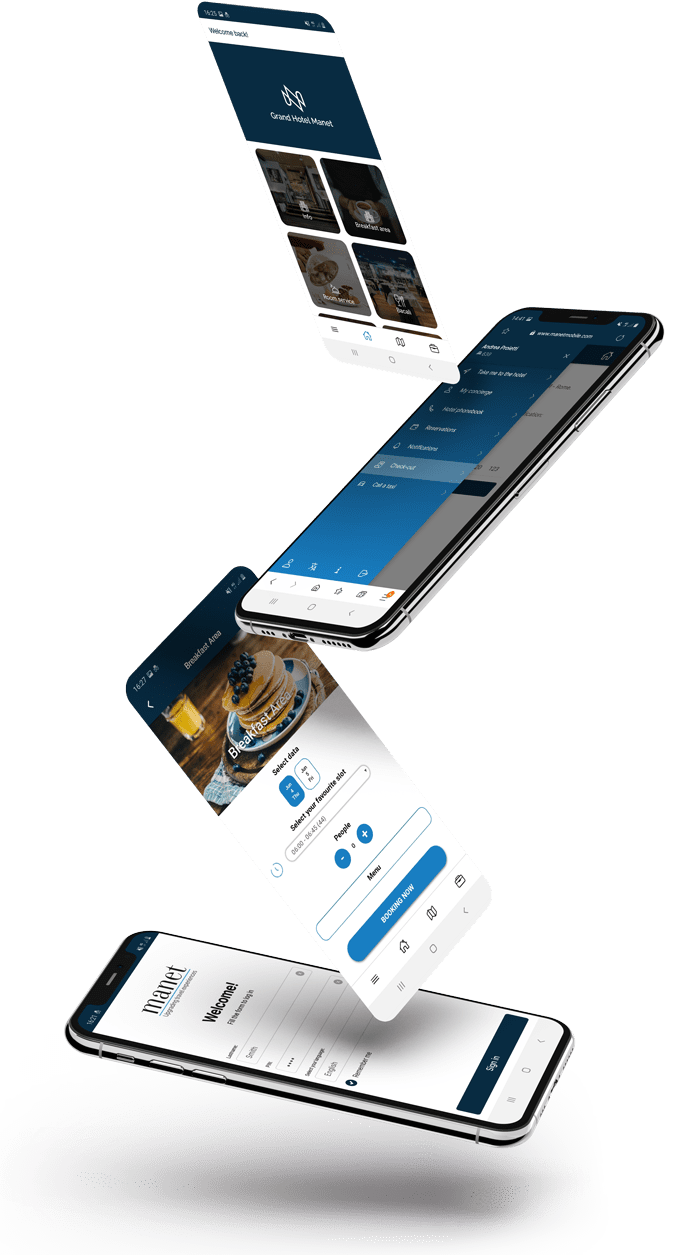 Enhance your customers' travel experience with Manet
The innovative solution to offer connectivity to your customers, keep in touch with them, convey your services and increase your profits!