Let us tell you a story about a journey:
ours.
Manet Mobile Solutions (MMS) was born in Rome in 2015 from a project launched and developed by five young entrepreneurs: Antonio Calia, Marco Barbato, Luca Liparulo, Marco Maisto and Andrea Proietti.
The idea behind it is to improve people's travel experience, in particular by making communication by telephone easy and accessible when abroad as well as by providing tourist content and making ticket purchase for attractions and hotel service bookings easy and fast. In a few words by upgrading travel experiences.
This is how the company develops Manet, an integrated digital solution designed for travelers offering to accommodation facilities a new revenue growth channel. The solution, whose initial goal was replacing the classic hotel room landline phones, is composed of a personalized device for guests – providing them calls, internet, services and tourist content – and a web dashboard for the accommodation facility containing many communication and marketing tools targeting guests throughout all their stay.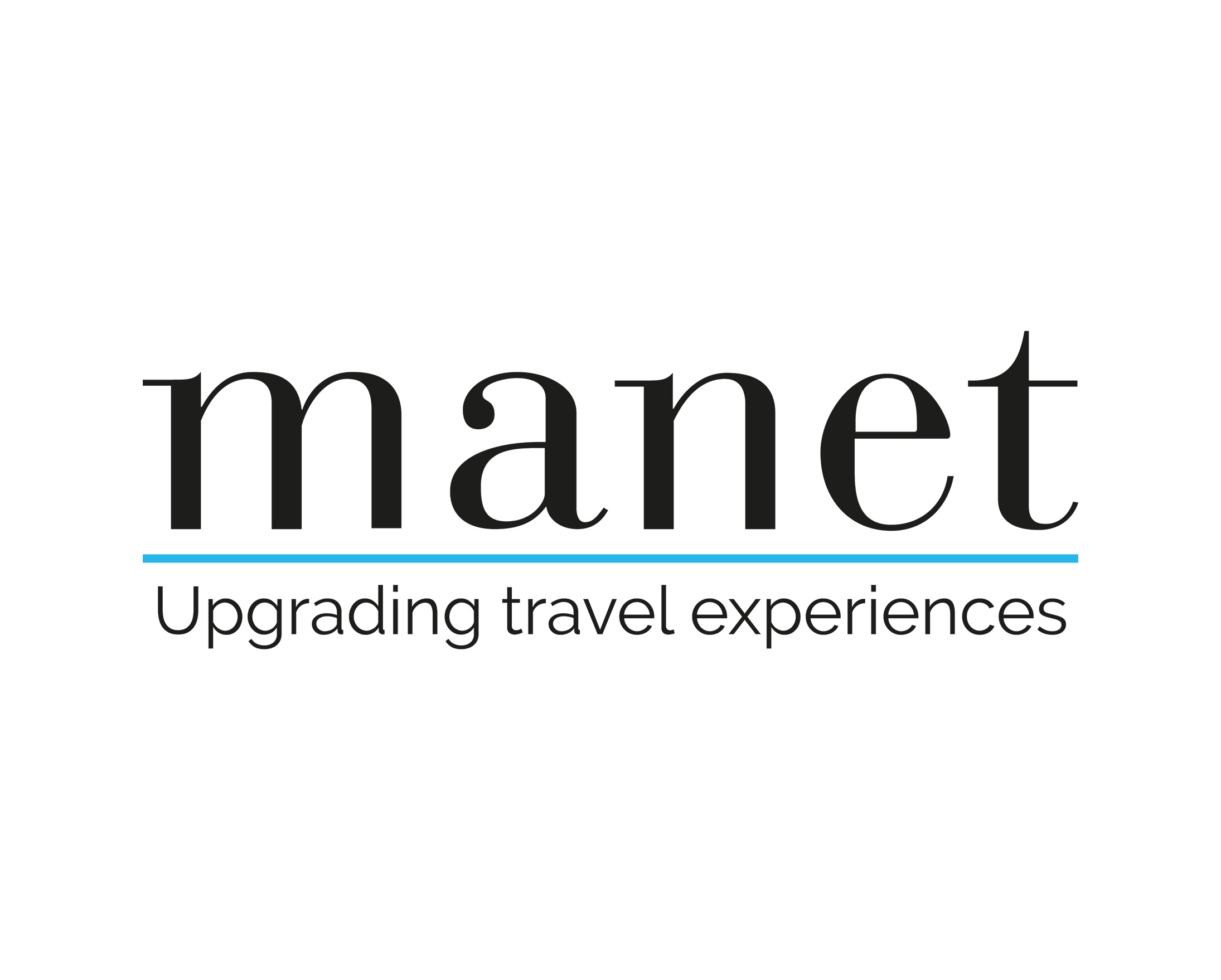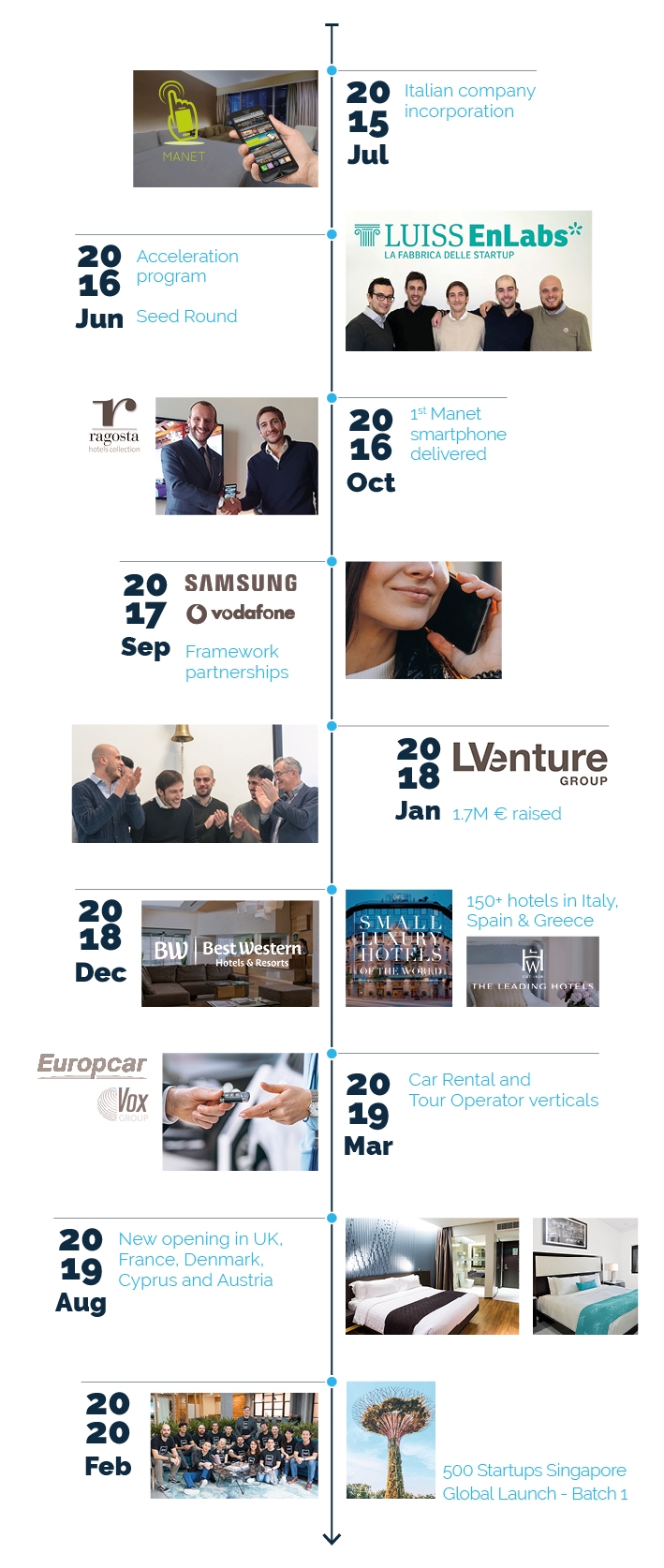 In June 2016, MMS was selected for participation in LUISS ENLABS, one of the main startup accelerators in Europe, that was born from a join venture between LVenture Group (LVG), a holding company investing in digital startups and listed on the MTA Italian Equities Market Stock Exchange, and the LUISS Guido Carli University. Between 2016 and 2017 MMS collects successfully 1,7 million € in equity investments from LVG and Angel Partner Group, an association of private business angels.
Distribution of the Manet solution begins in 2016 with signature of the first contract with a prestigious 5-star hotel in Rome: Palazzo Montemartini. All 2017 is spent by MMS to consolidate its market position in Rome and start expanding its presence in other big Italian cities like Milan, Florence and Venice.
2017 is also the year of the first important technological partnerships signed with Vodafone and Samsung, defining Manet as a high quality product and differentiating it from competitors. The choice of providing hardware, and not just developing an application, allows offering users voice and data connectivity and opens the door to many integration opportunities with IoT solutions, room automation, room entertainment etc. In addition, the solution gets enriched with more partnerships regarding services and content, in order to offer only the best to travelers and to operators of the tourism sector.
2018 allows MMS to strengthen its presence throughout the Italian territory and initiate distribution in Europe. Consequently, the solution gets also adopted by accommodation facilities in Spain and Greece. During 2019, MMS continues its geographical expansion adding in its client portfolio accommodation facilities from other European countries like France, the United Kingdom, Denmark, Austria and Cyprus.
2019 is focused on a sectorial differentiation of MMS's business on new vertical channels of the travel and tourism market. The potential of the solution and its flexibility, in fact allow its successful adoption both in the car rental and tour operator markets. Among all, MMS signs an important partnership with Europcar, one of the major players in the car rental market, for the national supply of the "Smart-Way" service, customizing the Manet device as an accessory providing clients with voice and data connectivity, GPS navigation, tourist services and direct contact with Europcar.
In February 2020, MMS was selected to participate in the Global Launch Singapore, a program of 500 Startups dedicated to Series A startups from around the world with the aim of developing a targeted strategy for expansion in the Southeast Asian market, starting from Singapore.
The impact of the Covid-19 pandemic on Travel and Tourism, between the first and second quarter of 2020, pushes MMS to a deep adaptation and transformation process of its digital solutions in order to tackle and satisfy future needs of travelers, taking into account the likely fears of contagion, the new specifications of sanitation and the effects of social distancing. For this reason, MMS has worked on optimizing its solution and implementing new features that will allow post Covid-19 travelers to continue to enjoy the best possible experience, taking into account new needs and modified interactions. These are functionalities primarily aimed at supporting the services that will undergo a greater impact in the 12-18 months following the start of the pandemic, but also – and above all – to seize the new opportunities that will characterize Travel and Tourism in the next future, intercepting the personality and behavior of travelers, in order to help create a peaceful restart for the entire Travel and Tourism sector, as quickly as possible.