Manet Mobile Solutions – an Italian startup focused on developing digital solutions in the travel and tourism industry – acquired the Edgar Smart Concierge platform to consolidate its leadership in hospitality technology thanks to Edgar's special capabilities for B&B and vacation rental, which enable property managers to improve business performance and increase their revenues by upselling ancillary services.
In addition, the acquisition of the Edgar Smart Concierge platform will enable Manet Mobile Solutions to increase the available integrations with hotel management software in order to connect the Manet App with an increasing number of hotel, b&b and vacation rental digital environments.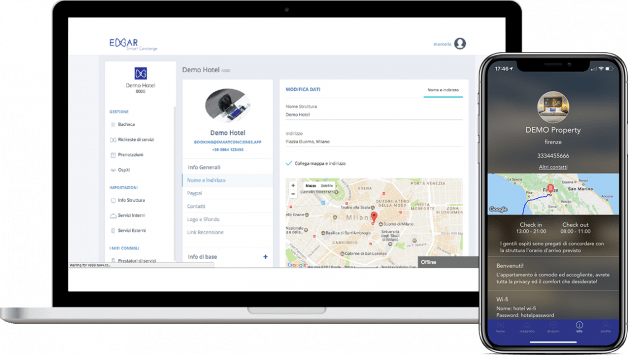 The acquisition of the Edgar Smart Concierge platform, specifically, enables Manet Mobile Solutions to strengthen its technology dedicated to hoteliers, b&b and vacation rental owners to enable faster and more complete integration with hotel management software (PMS) and reservation software (booking engine and channel manager). As a result of this deal, Manet's digital solutions become immediately integrable with more than 20 of the most popular and important hospitality software, enhancing the customization features of the Manet App and opening the door to an ever-widening target customer base.
Manet Mobile Solutions
Manet Mobile Solutions is an Italian company focused on developing digital solutions for the tourism industry aimed at providing travelers around the world with Internet connectivity and a universe of content and services designed to enrich their travel experience. It operates across 10 countries with more than 200 customers, including leading hospitality, car rental, and travel brands, who enjoy Manet' solutions as tools capable of generating additional revenue, simplifying daily operations, and increasing the satisfaction and engagement of their customers.
The company was founded in 2015 as the brainchild of five young entrepreneurs: Antonio Calia, Marco Barbato, Luca Liparulo, Marco Maisto and Andrea Proietti. The startup was able to raise private capital also thanks to the LVenture Group investment fund (a holding company listed on the MTA of the Italian stock exchange), to its business accelerator LUISS EnLabs (originated from a joint venture with the LUISS University) and to the related network of business angels, leading the startup to attract more than €2 million in investment over time for product and business development.
Manet's initial concept relied on a fully customized smartphone designed for hotel, b&b and vacation rental guests, offering free international calls and unlimited Internet connectivity, along with the ability to book all accommodation services directly from the Manet smartphone and take advantage of a whole range of tourist content and services tailored on the destination, such as a travel guide, food and wine suggestions, utility tools (translator, currency exchange, etc.), and the ability to purchase tickets for events, museums and attractions. Starting in 2018, the Manet smartphone evolves into a digital travel assistant also aimed at the car rental industry, to equip car renters with an innovative tool to replace more traditional GPS navigators and Wi-Fi portable routers. Then, in 2020, Manet services are also being made available through the Manet App - directly installable in the travelers' smartphones - in order to offer a fully customized staying experience for hotel guests.
The technological advancements in the telecommunications industry leads the company to rethink the original concept in order to develop an even more revolutionary and innovative product. In 2022, the company started rolling out Manet Travel, a connectivity solution based on eSIM (virtual SIM) technology that can bring via an app all the content and services offered on board Manet smartphones directly to the traveler's personal device. Jointly with tour operators, travel agencies, and other travel and tourism players, Manet Mobile Solutions enables travelers from around the world to enjoy a data connectivity package on their personal smartphones thanks to eSIM technology, enabling them to surf the Internet and access the universe of services and content offered by Manet and to enhance their overall abroad travel experience.
Edgar Srl
Edgar SRL was founded in 2017 as a result of the merger of two tourism startups, GuideMeRight and 1000 Italy. After a successful acceleration path at Nana Bianca, it launched a crowdfunding campaign in 2018 to support the distribution of its Edgar Smart Concierge product, which, in the following years, expanded throughout Italy, especially among B&Bs and vacation rentals.
Edgar Smart Concierge allows hosts (property managers, owners of B&Bs, vacation rentals or boutique hotels) to create their own Concierge App to assist their guests before, during and after their stay and increase earnings by upselling extra services.