Manet is the fully customizable digital concierge for your guests
Manet allows you to offer your guests a tailor-made experience, to make the most of their stay at your hotel. You will be able to easily manage your daily operations and increase your revenues.
Each client is unique to us.
Manet is customized according to your requirements, to meet your needs.
Convey your guests the real essence of your hotel
Manet allows your guests to live a truly authentic experience, in keeping with your idea of hospitality, every step of their journey.
Manet allows you to easily digitize the guests experience, helping your hotel to:
Point out
your ancillaries
Improve
guests' satisfaction
Optimize
daily operations
Point out your ancillaries
Manet allows you to manage all the hotel's information: at any time you can choose which details add, edit or delete.
Furthermore, you can upload new content or services about the hotel at any time. Manet customization allows you to add all the hotel's ancillaries: restaurant, room service, SPA, transfer. Your guests can see and book them easily and securely.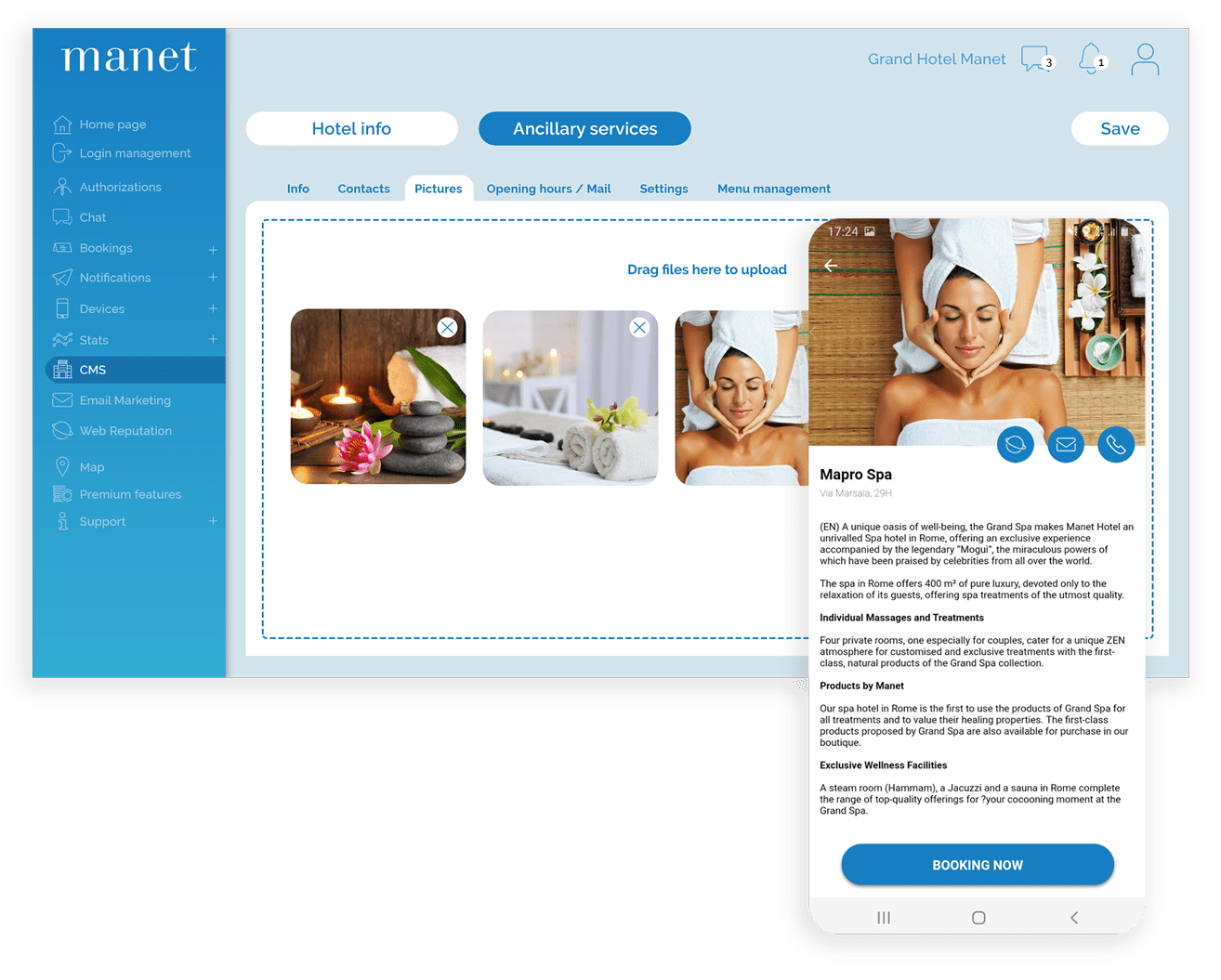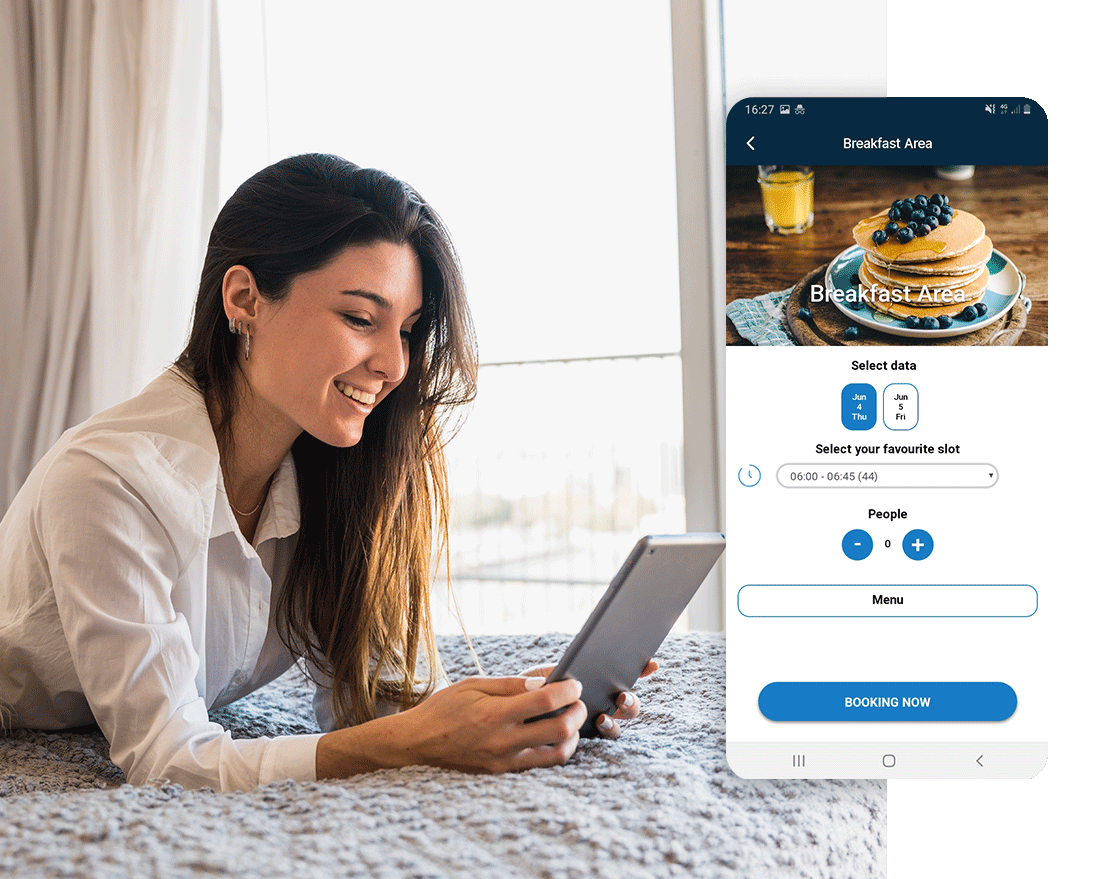 Improve guests' satisfaction
Manet tools and features improve and simplify your guests stay, by giving them all they need to make their experience unforgettable, every step of their journey.
This also helps you in collecting positive reviews from guests.
Optimize daily operations
Manet allows you to get in touch easily with guests and streamline communication with them at any time during their travel.
Your daily operations are optimized by better communication and a digital management of the overall guest experience.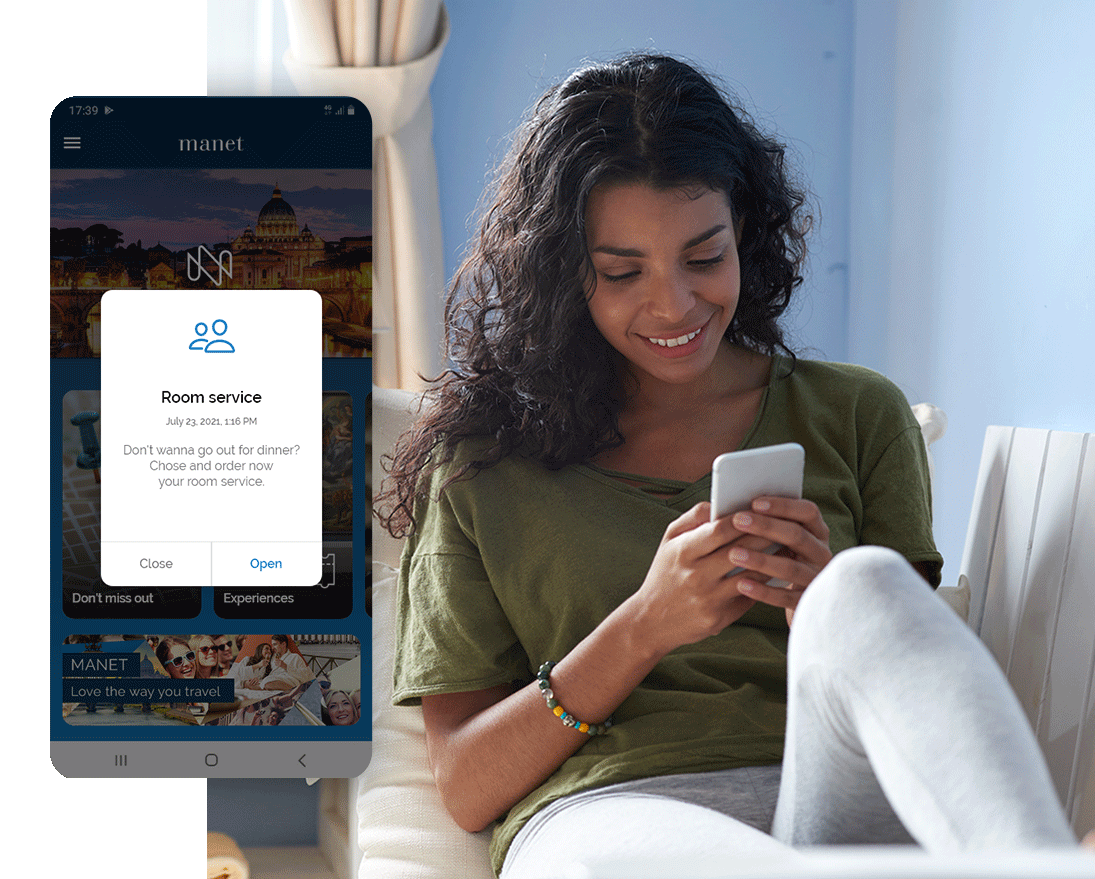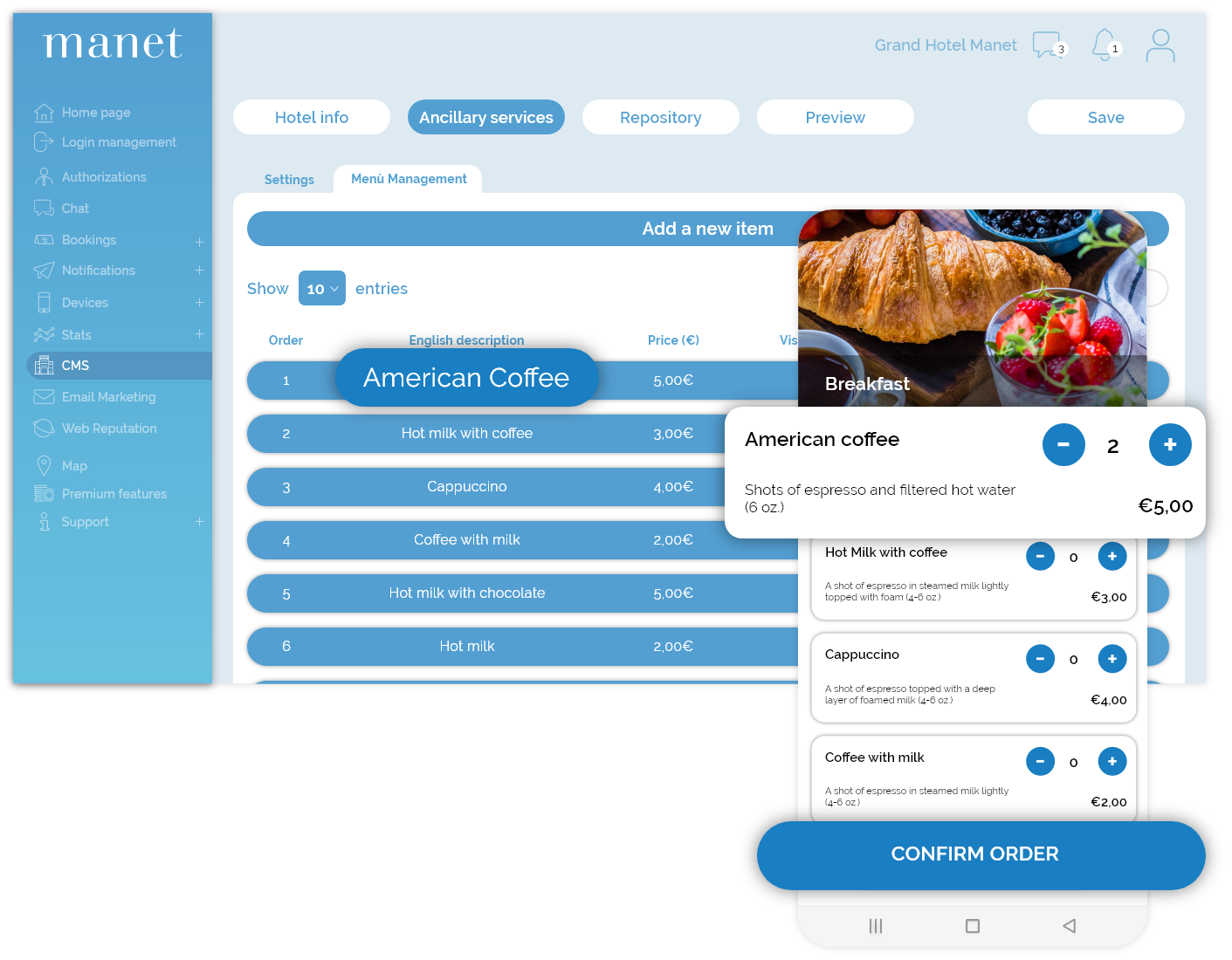 Manet customization allows to promote your hotel's information and ancillary services, giving you the chance to increase revenues.
Thanks to Manet, your hotel's info and services can be conveyed at best, increasing bookings, even before the stay.
"We have adopted Manet in all our hotels and after these first months of use we feel positively impressed by the added value that the solution brings to services offered to our clients. The reviews that can be read on Tripadvisor, Booking.com and on our social channels, where users express their satisfaction for this innovative and useful service, testify this value."
"With this agreement with Manet we wanted to go further by opening a new communication channel with our guests: a chat in real time. Guests can text us through their devices from anywhere, at any time of the day or night, and receive an immediate response from the hotel staff. Thanks to this technology we create a very complete user experience: guests feel welcomed, accompanied and cared for during their stay and this was exactly our desire"
"Manet is highly appreciated by the guests of our accommodation facilities. This appreciation is evidenced by many reviews that appeared on our most important online sales channels, mentioning among other things the Manet smartphone, and in many cases expressing the will to choose again the hotels of our group just because of the presence of this service."
"Just to let you know, the hotel provides personal phones to all the guest with portable 5g connection, international free calls, internal chat with the lifestyle team and a lot of usefull app downloaded... simply outstanding!"
"We have added Manet in our guest rooms 1 and half years ago and we could not be happier. The quality of the product along with the efficiency of their customer care is hard to beat. This allows our guests to thoroughly enjoy the service without any hassle or worry. Great job Manet!"
"Manet is as unexpected as appreciated!
Thanks to Manet, a hotel with good service becomes a hotel with excellent service!
I especially appreciated that it is an up-to-date digital concierge, which allows immediate communication with guests."
"Our collaboration with Manet started in 2019, and we immediately enjoyed the service!
Manet helped us in improving communication with our clients and during 2020 it has been an essential help, for booking both the access to the breakfast room and the menu. Another super feature is that Manet allows us to easily update the menu from the dashboard, so guests have the offer at their disposal immediately, without intermediate steps and avoiding, for us, the inconvenience of repeating the offer every time. Last, but not least, finding a smartphone at their arrival is much appreciated by our guests: many customers have judged it a top service."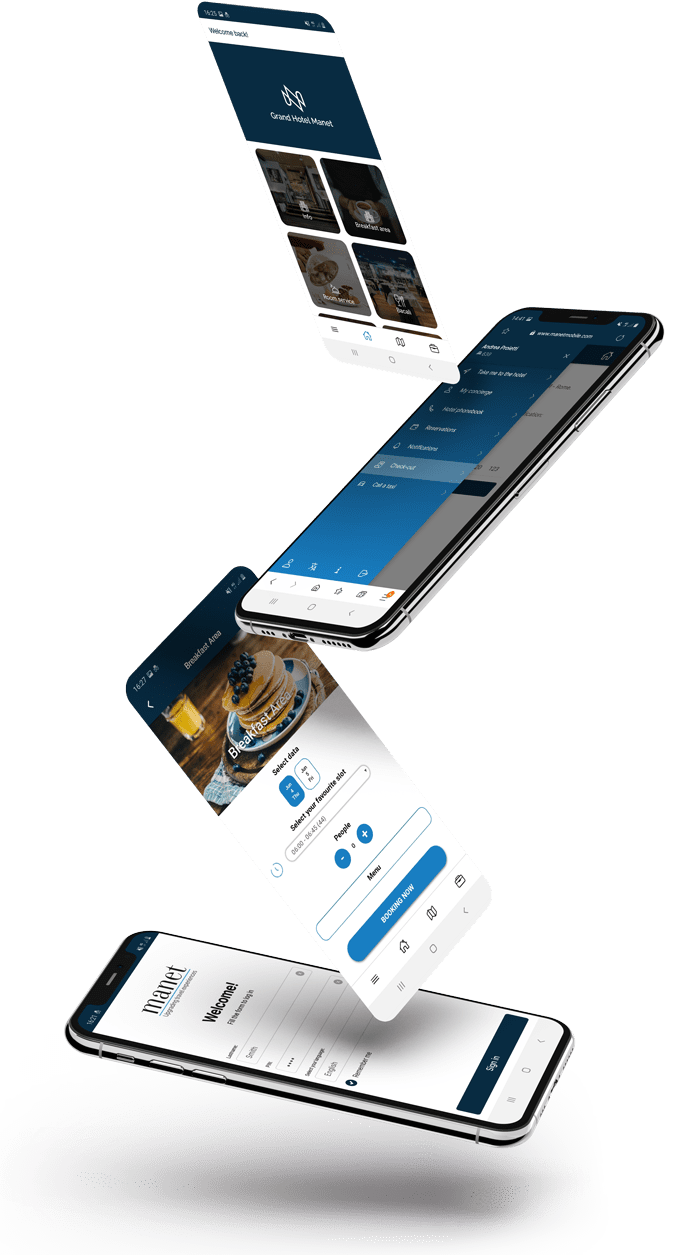 Discover Manet,
the customizable digital concierge
Keep in touch with your guests, manage your daily operations, increase extra revenue!