Thanks to the Manet App and Device features, you can get in touch with your guests before their arrival and accompany them during their stay
Hotel info & services
Through the app, your guests can find all the information they need and book your ancillary services.
Communication with the guest
You can engage guests before their arrival, providing them with useful information or contacting them through in-app communications.
Digital check-in (optional)
By enabling this feature, you can allow guests to complete all check-in operations remotely.
Unlimited connectivity
Thanks to Manet Device, your guests have at their disposal free and unlimited worldwide calls and connectivity, throughout their stay.
Immersive and complete experience
Manet Device extends the App features, including for example audioguides of the destination, real time chat with hotel staff, hotspot for personal devices and more, to offer your guests everything they might need!
Continuous contact with the guest
Push notifications allow you to reach the guest whenever you want, for any type of communication (discounts or promotions, late check-out, etc.).
Access to common areas
Give your guests the opportunity to book their access to common areas (e.g. breakfast room) at any time, so they can safely experience their stay.
Ancillary services
Allow your guests to book you ancillary services (room service, spa, restaurant, etc.) even on the move.
Tourist Guide
Allow your guests to access useful travel tools and destination recommendations to make their stay more complete.
Mobile Key (optional)
By enabling this feature, you can allow your guests to enter their room quickly, thanks to the integration between the Manet app and your smart key system.
Check-out and payment (optional)
By enabling this feature, you can allow your guests to check the final bill and directly pay it from their personal device.
Offers
Keep your guests updated on offers and push them to book again at your accommodation facility!
Surveys
Send your guests satisfaction questionnaires about their stay and be always able to offer the best standards of hospitality!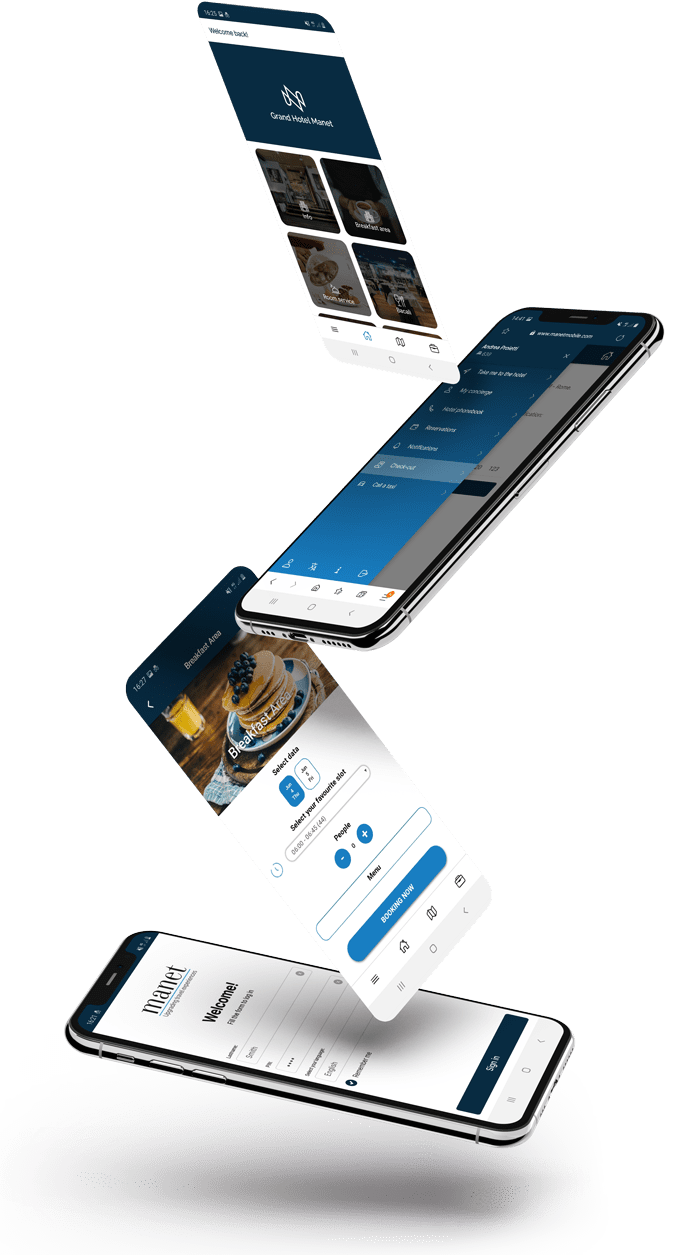 Discover Manet,
the customizable digital concierge
Keep in touch with your guests, manage your daily operations, increase extra revenue!
Do you want to accompany your customers in every moment of their trip?